T4F/N/V – TIER 3
Overview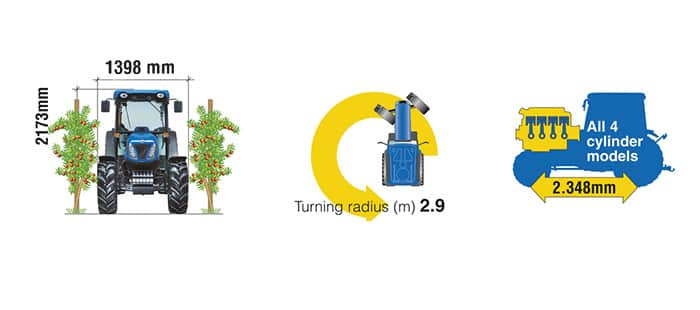 Offered in three widths to suit a range of specialist applications, the T4F/N/V tractor series match high power to weight ratios to best in class manoeuvrability. Key features include power outputs of 78, 88, 97 and 106hp, a wide transmission offering, cab or ROPS and a choice of front axles.
Features
POWERFUL AND COMPACT
Powered by all-new four-cylinder engines and with the addition of the flagship T4.105 model producing 106hp.
SPECIALIST VERSATILITY
Few specialist tractors can match the all-round versatility of a T4F/N/V tractor.
PRODUCTIVE COMFORT
Available with an advanced, fully sealed Blue Cab, T4F/N/V tractors match unrivalled comfort in the most unforgiving environments with brilliant all-round visibility.
ENGINEERED TO REDUCE COSTS
Long engine service intervals and low fuel consumption reduce the whole life operating costs of all T4F/N/V models.
*Always confirm model specifications & pricing with a Gendore Product & Sales Specialist
SMALL IN SIZE, BIG IN COMFORT

Designed around the operator
Operator comfort is a key New Holland priority. State of the art virtual simulation technology is employed to achieve the most ergonomic layout of the cab controls. The right hand console groups all main hydraulic levers together for ease of operation. Noise and vibration levels are tightly controlled, with light steering and class leading visibility over the stylish new engine hood all contributing to reduced operator fatigue.

NEW INSTRUMENT DISPLAY

The new instrument cluster features a large DOT matrix display and also lists information related to the new Engine Speed Management feature.

ERGONOMIC EXCELLENCE

The optional multi function electronic joystick controls four outlets. Switches on the console dictate which mid-mounted valves are to be used. The hydraulic motor operates through two additional outlets and is activated by a switch on the console *pictured layout option for V & N

EXCLUSIVE FEATURES

New Holland provides the full cab filtration offering for specialty applications: Braud harvesters and specialty tractors. Innovative double filtration system: two filters in the same roof system (category 2 and 4) switch from category 2 to 4 with a simple switch. Use category 4 only when spraying – longer filter life & lower maintenance costs. Guaranteed operator safety.

BLUE CAB™ 4 FILTRATION

On the new T4 range, there is now a Blue Cab™ 4 option with enhanced filtration against dust, aerosols and vapours. Compliant with EN 15695-2:2009 for filtration and EN 15695-1:2009 for pressurisation, a Blue Cab™ 4 offers category 4 protection levels. When this level of protection is not required, the double filtration system can be switched to offer Level 2 control. The filters are designed to have an extended working life.

HIGH COMFORT SEAT

Fitted with a deep cushion seat pan and wide backrest, the seat in T4 F/N/V tractors adjusts to suit all sizes. A deluxe air suspension seat is standard on cabbed tractors.

COMPACT BUT COMFORTABLE

On new T4 F/N/V models, in-cab noise levels are just 78dB(A). The transmission tunnel on both platform and cab models has been lowered by 6.5cm. The steering column now tilts and is also telescopic.

FOLDING ROPS

ROPS models have a forward folding frame to clear overhanging crops or access low buildings.
---
---